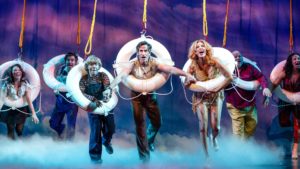 Host: Dave Lefkowitz
Guests: musician Seth Rudetsky, Dave's wife Joyce
Featuring: Rabbi Sol Solomon chats with theatrical musician Seth Rudetsky. Plus: Inside Broadway, Bob Dylan – Sooner & Later (eponymous), Saturday Segue (In the News).
00:00:01 DAVE GOES IN w/ Joyce (a lousy week that ends well, "Lassie" returns)
00:41:30 SATURDAY SEGUE – In the News
01:11:30 Sponsors
01:13:30 INSIDE BROADWAY
01:34:00 GUEST: Rabbi Sol Solomon interviews Seth Rudetsky
02:10:30 Friends
02:16:30 Bob Dylan – Sooner & Later (eponymous)
02:33:00 Weather & Sponsors
02:35:30 DAVE GOES OUT
Oct. 1, 2016 Playlist: "The Back Nine" (00:42:00; Loudon Wainwright III). "Fat" (00:46:00; The Violent Femmes). "Candidate" (00:48:00; Joy Division). "Song of Peace" (00:51:00; Benny Bell). "Train Round the Bend" (00:53:30; Velvet Underground). "Be Careful, It's My Heart" (01:31:30; Bing Crosby). "Five Worst Audition Mistakes" (02:05:30; Seth Rudetsky). "Rainy Day Women #12 & 35" (02:18:30), "You're Gonna Quit Me" (02:23:00) & "My Back Pages" (02:26:00; Bob Dylan). "Darling Be Home Soon" (02:38:00; Lovin' Spoonful).