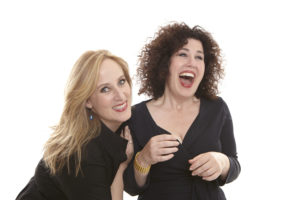 Jan. 14, 2017 (show #589) HEIS & LOWS
Host: Dave Lefkowitz
Guest: Dave's wife Joyce, theatrical composers Marcy Heisler & Zina Goldrich
Featuring: Rabbi Sol Solomon interviews composers Zina Goldrich & Marcy Heisler. Plus: Inside Broadway, Saturday Segues (birthdays, in the news), Dylan – Sooner & Later (Waves on the Tracks), a call from Jeff Goodman.
00:00:01 DAVE GOES IN w/Joyce (new checks, StuporShuttle)
00:12:00 GUEST: Jeff Goodman
00:45:00 DAVE GOES FURTHER IN (happiness, manatees)
01:01:00 Sponsors
01:07:00 GREELEY CRIMES & OLD TIMES
01:18:00 DAVE GOES EVEN FURTHER IN (Dylan Goes Commercial)
01:29:00 SATURDAY SEGUE – Birthdays
01:54:00 INSIDE BROADWAY
02:20:00 GUESTS: Rabbi Sol Solomon interviews Marcy Heisler & Zina Goldrich
03:03:00 BOB DYLAN – Sooner & Later (waves on the tracks)
03:22:00 Friends
03:30:30 SATURDAY SEGUE – In the News
03:59:00 Weather
04:02:00 DAVE GOES OUT
Jan. 14, 2017 Playlist: "Yamin Usmol" (01:30:00; Shlomo Carlebach). "Under a Cloud" (01:33:00; The Bangles). "Nowadays a Woman's Gotta Hit a Man" (01:37:00; Captain Beefheart). "Vrbana Bridge" (01:41:00; Jill Sobule). "Cry for Me" (02:18:00; Jersey Boys 2005 Broadway cast). "Ever After" (02:57:30; Marcy Heisler). "You Angel You" (03:09:30) & "Never Say Goodbye" (Bob Dylan). "If You See Her, Say Hello" (03:12:30; Russ Seeger). "What is Urinetown?" (03:31:00; Urinetown Broadway cast). "Tubular Bells" (03:35:00; Mike Oldfield). "MLK" (03:37:30; Joan Baez). "Where Do You Go to My Lovely" (03:40:00; Peter Sarstedt). "Inauguration Blues" (03:45:00; Loudon Wainwright III). "There are Bad Times Just around the Corner" (Cowardy Custard 1972 London cast; 04:07:00).