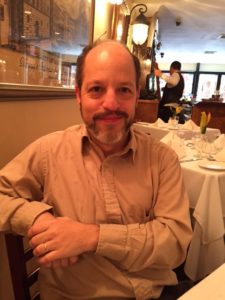 DAVE'S GONE BY is a weekly radio program that mixes talk, humor, culture, and music. The program currently airs Saturdays, 11am-2pm(Eastern) on UNC Radio, the radio station of the University of Northern Colorado.
DAVE'S GONE BY debuted Sunday night, 11pm, Oct. 6, 2002, on WGBB-AM on Long Island. The hour-long show soon moved to Monday evenings and expanded to 90 minutes. Early segments included comedy skits, The World Weird Web, the satirical News Gone By, and Dave's Gone Cultural, which eventually evolved into the "Inside Broadway" segment.  Special shows included annual expanded broadcasts celebrating the Tony Awards and New Year's Eve.  These specials continue to this day.
In 2009, producer and host Dave Lefkowitz and his wife moved to Northern Colorado. For several months, the program was pre-recorded and posted as an internet stream. After a half-year hiatus, DAVE'S GONE BY returned Aug. 7, 2010 with a three-hour, Saturday morning broadcast on UNC Radio.
The current format includes such segments as Greeley Crimes & Old Times, Inside Broadway, Saturday Segues, Wretched Puns of Destiny, and Bob Dylan: Sooner & Later.
For several years on Long Island, Jeff Goodman served as guest co-host of the program, with radio host Joe Salzone also taking part in may shows.  In recent years, Dave's wife Joyce has joined him for the first hour of the broadcast, including the popular "Greeley Crimes & Old Times" segment.
Notable guests on DAVE'S GONE BY have included musicians (Judy Collins, Loudon Wainwright III, Christine Lavin, Jane Siberry, Neil Sedaka, Janis Ian, October Project, Lloyd Cole), actors (Carol Channing, Charles Grodin, Robert Cuccioli, Carol Lawrence, Charlotte Rae), playwrights (Lee Blessing, James Lecesne, Mario Fratti, Greg Kotis), and media personalities (Joe Franklin, Dr. Demento, Dick Cavett).
And no history of DAVE'S GONE BY would be complete without mentioning Rabbi Sol Solomon, a guest on our very first program and a recurring visitor ever since. Rabbi Sol is the founder and spiritual leader of Temple Sons of Bitches in Great Neck, New York, and his mini-sermons, called "Rabbinical Reflections," have aired since Jan. 15, 2011.  Rabbi Sol also conducts many of the programs interviews and even appeared off-Broadway in a play he co-wrote with Dave, Shalom Dammit! An Evening with Rabbi Sol Solomon.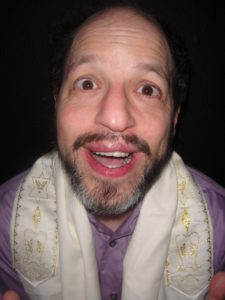 For more info on the Rebbe, please visit his website, ShalomDammit.com.
Nearly every episode of Dave's Gone By has been saved and is archived on this website, plus you'll find separate archives of our interviews, skits, songs, and wretched puns. Enjoy!
*
Producer and host Dave Lefkowitz is an award-winning playwright and a decade-long veteran of both terrestrial and internet radio. The founder of TotalTheater.com and co-publisher of Performing Arts Insider theater journal, Dave writes a monthly theater column for Long Island Pulse, and he's written for Backstage, Show Business, Long Island Woman, Playbill, Playboy, New York Theater News, and Entertainment Weekly. He holds a BFA (film & TV production) and MFA (dramatic writing) from New York University and an MA in theater education from the University of Northern Colorado.
In 2012, his staging of Shalom Dammit! An Evening with Rabbi Sol Solomon, played to notable acclaim in NYC. His solo play, The Miracle of Long Johns, won the Best Non-Fiction Script Award at the 2015 United Solo Festival in NYC.
From 2010-12, Dave served as the programming director for University of Northern Colorado Radio, where Dave's Gone By airs live on Saturday mornings.