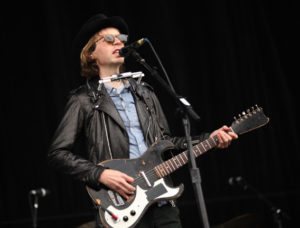 A traveler stops by the roadside and sees a nice place to turn in for the night. He walks through the front door, and the bellhop immediately hands him a loaf of sourdough. The traveler shrugs and walks to the front desk, but then he gasps, because right in front of him is world-famous singer-songwriter Beck Hansen.
"I'm a big fan," the traveler says to the musician, who turns around and punches the poor guy, pow!, right in the face.
The traveler storms to the front desk and says, "Hey! What kind of hotel are you running here?"
The clerk says, "Oh, sir, we're not a hotel. We're a Bread and Beck Fist."
*
Segment aired Jan. 28, 2017 as part of the "Dave's Gone By" radio program hosted by Dave Lefkowitz.
Please Note: Segments extracted from "Dave's Gone By" may have music and other elements removed for timing and media re-posting considerations. For the full interview with all elements, please visit the audio of the complete original broadcast.
All content (c)2017 TotalTheater Productions.
More information on Dave's Gone By: http://www.davesgoneby.com